Diamond Dressing Tools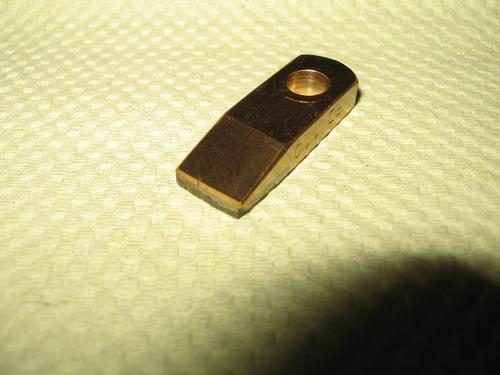 Diamond Dressing Tools
Price And Quantity
Piece/Pieces

3000.00 - 10000.00 INR
Product Specifications
Dressing Tool

Daimond dressing
Product Description
We are strongly supported by a well established and fully equipped production unit, backs us in manufacturing and supplying Diamond Dressing Tools. These tools are manufactured by our diligent workforce using best quality alloy steel. These tools are used in camshaft grinding machines, crankshaft grinding machines and valve seat grinding machines. We offer these Diamond Dressing Tools at cost effective prices.
Features:
Light in weight
Sturdy and durable
Resistant to rust

Diamond Dressing Tools
Backed with rich experience and knowledge, we are considered to be one of the most professional traders and importers of Diamond Dressing Tools. These tools are appreciated for features such as durability, longer working life and high tensile strength. Our offered range of dressing tools is used in camshaft grinding machines, crankshaft grinding machines and valve seat grinding machines. Diamond Dressing Tools is manufactured as per the rules and regulations set by the industry.

Further Details:

This is a multi point dresser unlike single point diamond dressers available in the market. These dressers have 4 single crystal diamond in one line. There are 4 layers pressed one below the other thus making 16 diamonds in 1 dresser. The diamond used is of 1.5 Carat.
The advantage of this dresser over ordinary dresser :-
| | |
| --- | --- |
| Diamond Wafer Dresser | Ordinary Dresser |
| More life ( approx. 10 times ) due to | Less life because of single diamond cutting. |
| multi diamond cutting. | |
| Excellent dressing of grinding wheel. | Low dressing quality of grinding wheel. |
| Dressing process takes less time. | Dressing process takes more time. |
| Brass body enhance faster heat | Steel body has less heat dissipation capacity. |
| dissipation, thus increase life. | |
| Capacity to compensate variable slide | Does not have capacity to compensate |
| movement of machine during dressing. | variable slide movement of machine during |
| | dressing resulting into breakage of diamond. |
Application : -
These dressers are suitable for any wheel of any grade ( black, green, white ) except diamond wheel.
Area of Application :-
Angular Grinding machines.
Cylindrical Grinding machines.
Centreless Grinding machines.
Surface Grinding Machines.
Internal Grinding Machines.
All types of Diamond Dressing Tools
Chisel Type Diamond Dressers
Using special stones of stem constructs and various angles, we manufacture high quality Chisel Type Diamond Dressing Tools. Further, these are braced from 25 - 85 included angles and 0.002 to 0.040 front radius in compliance with several applications. During the time of production, we give immense importance to shank dimensions, nose radius, varied angles and carat weight of the diamonds.
Single Point Diamond Dressing Tools
The Single Point Diamond Dressers are comparatively more resourceful and are used for dressing and truing function of the grinding wheels. The diamond for the single point dressing tools are designated for their functional strength, level of sharpness & lack of damaging imperfections. The decorous choice of single point diamond dresser reckons on the grit size, dimension of grind hardness and sort of abrasion.
We offer 'A', 'AA' 'AAA' class, which will accomplish all primary requirements.
Suggested areas :
Dressing tools should be closely fixed so as to deflect the vibration.
Angle of the dressers should be radial 10 to 15
Delivery up to 0.03 mm (30 microns)
Feed up to 0.2 mm
Great cooling, the dressing must be used the at the very start - otherwise the risk of cracking may occur.
Turn to the fabrication of the diamond surface axially by 90
Well-timed representation can boost the efficiency.
Multi Point Diamond Dressers
The Multi Point Diamond Dressing Tools manufactured by us are determinate with the figure of natural diamonds of a quality crystal lineament that is fixed into a specific wear tolerant bond. The diamonds are laid in different patterns in single layer or collective layers, reckoning upon the field of work. The link between diamond points and wheel faces cuts cut down the unit pressure on each point. This results in a big tool life with inundated utilization. Multi Point Diamond Dressers are in use for large wide grinding wheels and possess following benefits:
No resettlement.
No re-coverings.
Effortless maintenance.
Higher yield.
A big service life.
Fit the multipoint tools into the middles of the grinding wheels.
Level of cut should not transcend than 0.01-0.04 mm
Plenitude in the usages of coolants to enhance the tool life.
The mounting must be free of vibration with the least clamping length.
Blade Type Dressing Tools :
Blade Dressers are categorized by using Needle Type Blade Dressers (NBD), Precision Dressing Blades (PDB) and Diamond Grain Blades (GBD). These tools are exercised for sequential production mainly for round and center less grinding machines.
Needle Type (NBD)
In the Blade Type Diamond Dressers, Needle shaped diamonds are cautiously chosen and then they are set manually in a suitable pattern of different layers. These are outfitted with high attributes of Diamond Needles and fit in a proper strategy. Used for larger windows and longer dressings these products are highly functional.
Grit Type (GBD)
In the Blade Type Diamond Dressers, Grit type block diamonds are fixed in accordance with decent scheme. Its a non-automatic procedure of setting the diamonds. The blades are made for long service life and are used in a high precision dressing usages.
Impregnated Dressing Tools
Impregnated Diamond Dressers incorporate diamond grains keeping sintered bonds. These are less delicate in their usages and make an equal rough grinding wheel opencast. In these dressers the crushed diamonds grit in both natural & synthetic forms and are fixed in various layers of ergodic pattern. With these kind of tools, the dressing work is moved out by various small diamonds, which jointly result in superior execution. To accomplish great results, the diamond particles must have double grain to be dressed. Implements with high diamond content have more efficiency in this case. These tools are more appropriate for precise and delicate grinding wheels wherein a lower surface finish is compulsory.
Diamond Dressing Tools
In the roller dressers diamond, needles are ordered equally on the level and in the number. For this purpose, needle or flat natural diamonds are selected, which are clenched by a particular sintered bond. When one row of diamonds get flat / worn, by giving a turn to the roller, new ends are used for dressing. In this way it ensures the equal clean dressing. Particular Needle or diamonds are chosen and set in the degree. The small size diamond and needles are used in this. Has an area defined at a length 5-6 mm, the wheel should be turned a bit. This is ever new diamond points for action.
Trade Information
Cash in Advance (CID), Cash Advance (CA)

10 Per Day
Sample costs shipping and taxes has to be paid by the buyer

Plastic bag and Bubble wrap